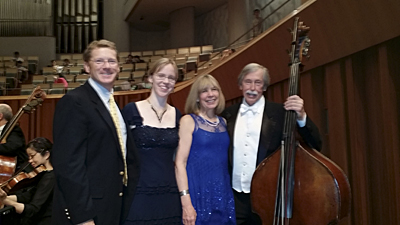 With my doublebassist husband, Joe Hearne, our son Sean and his wife Catherine in the National Centre for the Performing Arts in Bejing, just before concert time
Happy May!
This is Jan Brett and this is my May hedge a gram, the time I take to tell you what's happening in my life as an author/illustrator.  I'm in China right now traveling with my husband, a double bass player in the Boston Symphony.  The orchestra will perform in three cities in China, then Tokyo, Japan and afterwards we will stop in Okinawa, Japan an island far to the south, to visit my daughter and her family.  I will visit historical sites and try to absorb as much of the culture as I can, in hopes that a future book idea will happen.  I have done a book set in Guilin, China, DAISY COME HOME, starring a little girl who loses her pet chicken.  Guilin is a particularly picturesque part of China and a wonderful place to set a book.  The mountains, which out of the earth like jagged teeth are covered with green and look like silhouettes of animals.  The Li, or crystal river, is home to cormorant fishing.  The fisherman pole bamboo rafts out onto the river with a flock of cormorant, duck like birds that are trained to dive for fish and bring them to their master for a reward.  Although the fishing is now mostly staged, it makes one feel like you are back in the olden days to see it.
I've just spent weeks on my letter to children about my latest book, THE ANIMALS SANTA, I call my news notes.  It tells tidbits about the book which will be out next fall in time for Christmas.  We will send out 80,000 of my four-page full-color letter to friends and also have it available to download online.  I usually try to make one page an interactive activity and because it's a Christmas book, the last page is a Christmas card I created for my friend's use.  It can be downloaded and copied at your local copy shop or used as it is.  The idea behind my book is that people have a Santa, but how about the animals?  My answer is "Yes!"  In a remote village in northern Canada a group of animal friends find mysterious presents on Christmas morning.  They think they could be from Santa, but no one knows for sure until snowshoe rabbit sets a trap.  Santa is a snowy owl, and my card is from him.  I imagine people sending it from their pet, to their friend's pets.  Or, if you don't have a pet, it could be sent as a whimsical Christmas card.  Usually I use a somewhat simpler art style, but because the card was intended to be used by my friends, I use my best effort and employed my "book style".  I'll have it up online in plenty of time for the holiday season.  The project took a long time.
Because I spent so much time on my news notes, I'm now trying to catch up with the current book, THE TURNIP.  I set the book in Russia, in the area around St. Petersburg, where I visited two years ago to do research for CINDERS.  I will have to spend some of my time painting in my hotel room during this trip, instead of sightseeing, so I can at least finish one page.
I have loved the turnip story for years, but is unique because in Russia much of the fun is in the telling.  The names of the different characters rhyme and make the word a tongue twister.  Since my English counterparts are not tongue twisters, I had to create a new surprise element to keep the story lively.  As the animals, in this case badgers, line up to pull the giant turnip out of the ground, a bear's den lies underneath.  In fact, the giant turnip has taken up the Bear's bedroom!  Can you guess what event will finally unearth the turnip?  Hint, the bear wants that turnip out of her bedroom!
So far, I've written the text and have just received some samples of the type, both of which I love.  But one stood out as having just the right qualities to enhance the artwork.  It's slightly old-fashioned and European in quality, but if letters could evoke humor these would.  Marikka Tamura, the designer at my publisher who I have worked with for many of my books, is responsible for finding some interesting choices of type.  She will send me my story in the new type face and then it's my job to leave room for it in my artwork, which is harder than it sounds.  Artists are notorious for wanting all the page space for their art!  In the end though, I think illustrators love the look of type and art together and that is one reason why we choose this medium, a children's book.
I have my book dummy that I use as a guide as I work on the finished pages.  It's my favorite part of the process, and I tried also tried to leave a little mental energy to bring new life to my pages as they are transformed from the cartoon-like book dummy.
Signing off from Asia, your friend, Jan Brett